Sometimes, a bus is the best way to travel ...
The BUSS is an initiative launched by the INTOSAI-Donor Cooperation in 2022 to continue capitalizing from the collaborative platform in place, maximize joint efforts, and to increase support to SAIs in need.
The objective of the BUSS initiative is to link available sources of support with SAI development plans by first proactively identifying resources, second, supporting SAIs in articulating their needs and third, enabling opportunities for engagement for both SAIs and partners.
The BUSS is replacing the Global Call for Proposals (GCP) Tier 1 mechanism – a rolling mechanism that intended to supported SAIs to develop proposals based on their needs and strategic plan, and enable mobilization of funds from interested financial and technical providers of support in a coordinated manner.
IDC's aspiration with the BUSS is to scale-up and optimize joint efforts of INTOSAI and donor partners in enhancing the capacity and performance of SAIs in developing countries.
Identify, establish and link sources of support for SAIs
Empower SAIs in articulating their needs based on their strategic plans, and facilitate their dialogue with funding partners and other oversight institutions
Enhance regional collaboration among SAIs, regional bodies and funding partners
Meet SAI Governance and Independence needs by establishing a link to the IDI governance initiatives focalized in-depth support
There are two routes to achieve this, (A) SAIs participating in the IDI SPMR programme that require concrete donor and/or peer support to be facilitated through the Buss; and (B) SAIs applying through Buss initiative whose needs can be met through SPMR or related IDI governance initiatives.
The BUSS is available for all INTOSAI members and all donors and development partners working on Governance, Public Sector, Financial Management and working on Public Financial Management.
The BUSS has a two-fold brokerage approach targeting the empowerment of SAIs and identification and mobilization of resources. GFU, on behalf of the Cooperation, will provide brokerage services:
On a permanent basis, by actively identifying global and regional funds or technical support available and connecting SAIs to those funds
Regionally, by targeting 2 regions per year with BUSS workshops to facilitate sessions on strategic and mutually beneficial partnerships; advocate for SAI support; identify and target funds to enhance SAI development; and encourage broader accountability strategies by linking SAIs with other oversight institutions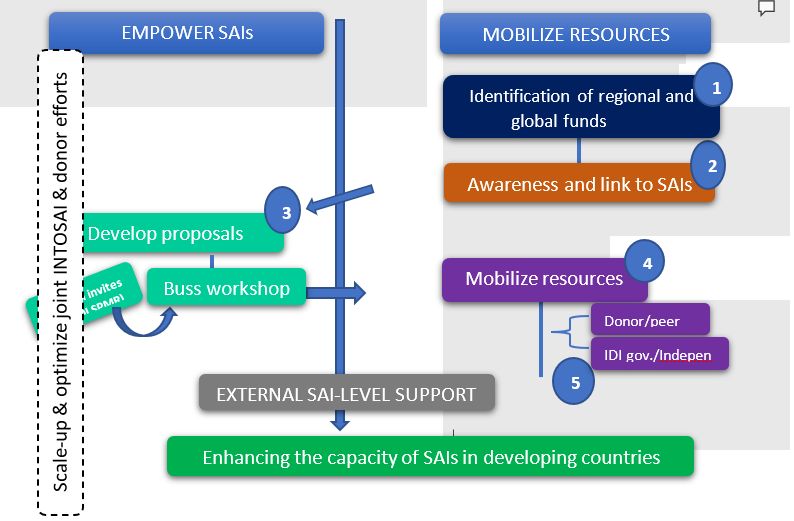 The BUSS began its journey with a workshop for the CREFIAF region in October 2022. Next stop – OLACEFS in 2023!
When the Cour des Comptes of Burkina Faso attended the BUSS workshop in the CREFIAF region in October 2022, the SAI had already been working diligently towards the revision of organic law n°014-2000/AN of May 16, 2000…
The IDC BUSS? It's just a vehicle.
But with the right people on board, it's a ride into the future. Jump on at the next stop in your region!
For more information about BUSS, contact the Global Foundations Unit at intosai.donor.cooperation@idi.no