Global Call for Proposals: Tier 1 Launch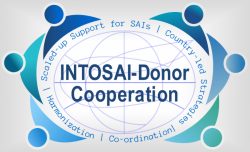 The INTOSAI-Donor Cooperation today relaunches the Global Call for Proposals (GCP). The GCP is being relaunched in a stronger format with several new features. The GCP matches SAI's needs-based capacity development proposals with donor funding and/or INTOSAI support
Tier 1 is similar to the 2011 and 2013 GCPs, accepting proposals from all SAIs and INTOSAI bodies, for projects benefitting SAIs in developing countries. Tier 1 has been strengthened to better fit the needs of SAIs, and increase the ability of donors to support project proposals.
• Rolling process: short concept notes can be submitted at any time, rather than in set time windows. So SAIs can apply when they are ready, and when best fits in with their strategic cycles. SAIs can also make use of the information on funding sources, including donor fact sheets, to identify the priorities and funding cycles of potential donors and other providers of support. This may enable SAIs to apply in time for specific donors to consider their applications when developing their country strategies.
• Peer to peer support: recognizing that SAIs have unique roles best understood by other SAIs, and that peer support is already established as a credible and independent form of support within INTOSAI, the GCP seeks to facilitate greater use of SAIs and INTOSAI bodies as providers of peer support. SAI applicants, and donors, can make use of INTOSAI Capability Statements to identify potential providers of peer support.
• Stronger quality checks: concept notes will be reviewed against agreed INTOSAI-Donor core principles, and only circulated once these are met. These include: SAI-led not donor driven; linked to the SAIs strategic plan; and harmonised and coordinated with existing support to avoid overlap and confusion.
Tier 2, which will provide more intensive support to a small group of the most challenged SAIs, will be launched later in 2017.
Download the GCP Tier 1 flyer in pdf English (506 KB) , pdf French (528 KB) , pdf Spanish (521 KB) and pdf Arabic (496 KB) and find out more about the relaunched global call for proposals, including downloading the application template, at www.idi.no/intosai-donor-cooperation/global-call-for-proposals-funding-sources